This article covers a list of 2017 top 5 free DVD Ripper for Windows that you can use for converting DVD discs, DVD ISO , IFO , BUP, VOB, Video_TS files you want.
DVD rippers are applications that set your movies free from their discs and allow you to have digital copies of the content that you've paid for. The best programs not only convert your DVD movies, but also optimize them for playback on devices like smartphones, tablets and gaming systems. They also let you to customize your conversions with tools that trim, crop and adjust your videos.
After testing almost all the DVD rippers in the market, We've rated and ranked the best DVD rippers available on the market today. At the end of our analysis, Brorsoft DVD Ripper, DVDShrink, Handbrake, WinX DVD Ripper, Aiseesoft DVD Ripper earned the top five spots on our side-by-side comparison.
NO.1. Brorsoft DVD Ripper for Windows
Now Price: $34.95
Brorsoft DVD Ripper for Windows is the first best DVD ripper I recommend. The best DVD Ripping program provides movie lovers with the easiest and fastest way to convert any DVD movies to any prevailed video and audio formats including AVI, MP4, WMV, MOV, FLV, MKV, 3GP, MPEG, TP, TRP, HD AVI, HD WMV, HD MOV, etc. with high quality. If you want to convert DVD movies for playback on your portable device like iPhone 6, iPhone 6 Plus, iPad Mini , iPad Air, Apple TV, Nexus 10, Nexus 7, Samsung Galaxy Tab S2, Microsoft Surface, Kindle Fire HDX, Xbox One, Xbox 360, Roku 3, etc., this DVD ripping software is undoubtedly the best choice. You just need to select the device as the output format and you can rip DVD to fit your device without further settings.
Moreover, Brorsoft DVD Ripper makes 1:1 copy of original DVD Disc without quality loss with all audio streams, subtitle tracks, extras, etc and also help you direct copy main movies from DVDs. For the short time it takes to convert the movie with the help of CUDA/AMD GPU acceleration, and you will get hours of enjoyments. It's simple to use and well worth the investment.
• Save 100% intact VOB main movie from your DVD Disc without any quality loss.
• Copy the entire disc in original file structure with all subtitle tracks and audio streams preserved.
Convert 6X faster and keep excellent video quality
Grabs the NVIDIA® CUDA and AMD technologies, speeding up the conversion speed and lets you convert DVD movies in a flash while keeping the original high video quality.
Rip, backup and edit DVD with Windows Brorsoft DVD Ripper Tutorial page >>
For Mac users, please turn to Mac Brorsoft DVD Ripper Tutorial page >>
DVD Ripper for Windows

Supported OS: Windows 2003/XP/Vista/Windows 7/Windows 8/Windows 10

DirectX Version: 9.0 or above

Processor: 500MHz or above Intel or AMD CPU

RAM: 64MB at least

Hard Disk: 512MB or above

Optical Drive: DVD drive

DVD Ripper for Mac

Supported OS: Mac OS X Snow Leopard (10.6), Lion (10.7), Mountain Lion (10.8), Mavericks (10.9), Yosemite (10.10), El Captain (10.11), macOS Sierra (10.12)

Note: If you're using Mac OS X 10.5, please click here to get Blu-ray Ripper for Mac OS X 10.5.

Processor: 1G Hz or above PowerPC G4/G5 or Intel processor

RAM: At least 512M physical RAM

1024*768 or higher resolution display

Optical Drive: DVD drive
NO. 2. DVDShrink
DVDShrink is one of the most popular free DVD rippers that will effectively back up DVD discs. It has a sleek interface with a unique ability to compress 8GB dual-layer DVDs down to 4GB sizes. It has great compression functionalities that are optimized with more shrinking capacity and additional features like re-authoring. With its user friendly interface, DVDshrink will make your DVD ripping a breeze!
Pros: sleek and user-friendly interface; ability to re-encode and discard extra content; great compression functionality
Cons: has not been updated since its released and might not be able to decrypt some DVDs with newer copy-protection
NO. 3. WinX DVD Ripper
WinX DVD Ripper is also a great free DVD ripping tool that is also very easy to use. With its presetting profiles, you would be finished with your ripping task in a jiffy. It is fast and straightforward and supports ripping DVD to AVI, MP4, WMV, MOV, MPEG, FLV and many more. For the basic DVD ripping requirements, this free software is a great tool to have.
Pros: fast ripping speed; easy to use and ideal for newbies;
Cons: does not support all video formats and portable devices
NO. 4. Aiseesoft DVD Ripper
WinX DVD Ripper seems smarter; you can whether load a DVD or a VIDEO_TS folder at the very start. However, the software failed to find the correct main movie when I did test with Chipmunks: Chipwrecked (2011) DVD, all it finds are extra movie trailers (e.g. Ice Age 4 as it shows in below sceenshot). Anyway, you should not expect much to a free tool. WinX support quite a lot of formats(MP4, MPG, WMV, FLV, MOV), and luckily I managed to find Samsung Galaxy Tab format which works for my device. Are there any other formats for more Android tablets? Unfortunately the answer is NO. WinX DVD Ripper failed to recognize the main movie during above test, but it's still a good choice for those who hang on to freeware.
NO. 5. Handbrake
HandBrake is the second best DVD Ripper I recommend for it is the most welcomed free DVD Ripper. It can rip encrypted DVDs, compressing the files in the process. HandBrake can run in Mac OS X, Windows, Linux, BSD, Xfce. If you are a Mac user, you can take it. What is more, HandBrake support of chapter selection, support of subtitle, picture cropping. However, The output of HandBrake supporting is limited. It only can support output file format: MP4 and MKV, video: MPEG-4, H.264, Audio: AAC, MP3. The speed of rip DVD is not fast. You may have to take one hour or several hours to copy a small video. Some customers say HandBrake sometimes will shut down when they are ripping DVD video. In a word, HandBrake is a good free rip DVD software.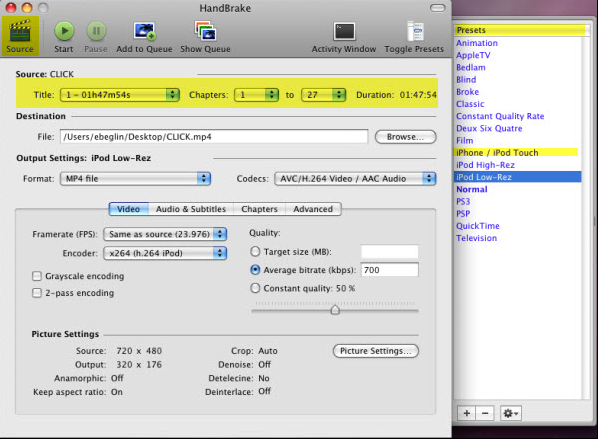 Okay. This is the list of top 5 best DVD Ripper for Windows. Hope this top DVD Ripper Reviews in 2017 can help you fast choose an easy-to-use and yet professional Blu-ray ripping tool for Mac and Windows 10. Enjoy.
Additional Tips:
As DVD Ripper
A DVD ripper is usually used for copying the audio and video content of a DVD to a file encoded in AVI, MP4, MPEG, WMV or other video formats. The ripped file saves in a hard disk or other media device for further editing, backup, sharing or playback without the need to load a DVD.
Brorsoft has the most powerful crack technology. Both HD DVDs and standard DVDs can be ripped to all popular SD and HD (3D) video formats like 4K/1080P/720P H.264/H.265 MP4, MOV, MKV, M4V, WMV, FLV, AVI, 3GP, MPEG and more.
Meanwhile Brorsoft DVD Ripper also provides the preset formats for over 175 hot devices (iPad, iPhone, Android, Surface tablet, Samsung Galaxy, Xbox, PlayStation, NAS, Panasonic/Samsung/Sony/LG Smart TVs/HDTVs/3D TVs). Simply select the profile to rip DVD for playback on your device with optimized settings and never worry about the video incompatibility!
As DVD Copier
Now that, like all physical things, DVD discs are prone to damage or loss. Then you have to rebuy your movies or go without them – both are a waste of money. Even though you can stream or download your shows directly from the internet, having a physical copy is a good idea. You never know when your favorite show will leave Netflix or Hulu. And you can't always rely on your internet connection to deliver your shows with the same high quality found on physical DVD discs.
If you want to always have access to your media, copy DVD movies by Brorsoft DVD Ripper is the way to go. It allows you to make physical and digital backup copies of your DVD library. It provides two model for you: Copy DVD Main Movie Only or Backup DVD Whole Structure. This is great because it means you'll always have access to the movies you paid for.
If you are looking for a powerful all-in-one tool to convert videos, Blu-ray movies and DVDs to your VLC, QuickTime, Google Nexus 10/7, Samsung Galaxy Note 2, Galaxy S3/S4, Galaxy Tab 3, Transformer Prime, etc simultaneously saving time and effort, the all-in-one Blu-ray Video Converter Ultimate program will be a nice choice for you. If you are running a Mac OS X computer, iMedia Converter Mac is the alternative.
More Guides:
Brorsoft DVD Ripper
Best DVD Ripper 2017
Rip DVD ISO to PS3/PS4 MPR Format
Watch/Play ISO files Through Apple TV to HDTV
Play DVD movies on Samsung Smart TV with 3D Effects